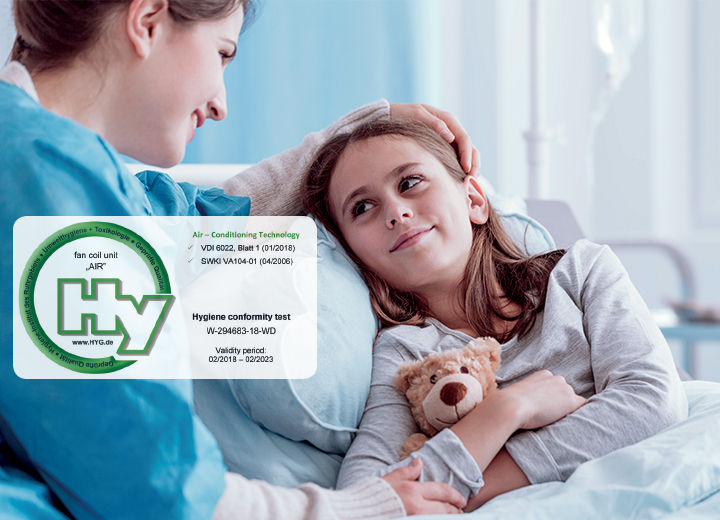 The ideal comfort, in total safety.
The guarantee of an ideal and healthy climate inside the rooms which ensures comfort and safety, favoring the individual's psychophysical wellbeing, improving their health, performance and concentration, are today aspects of primary importance. Appropriate air management in the environments in which we live not only in terms of thermal gradient but also in terms of purity is a vital aspect to ensure the well-being of the occupants and ensure excellent maintenance of health conditions.
Ventilclima with this new series of certified fan coil wanted to give a concrete answer to the primary aspect of user safety, designing and developing a dedicated range of units designed to guarantee high standard sanitary conditions with multiple versatility in the field applications ranging from the most common applications such as offices, schools, gyms, SPAs and common places in order to offer a healthier and safer environment to more sensitive applications such as hospitals, clinics, food and pharmaceutical industries where absolute levels of hygiene must be guaranteed.
The introduction of innovative technical-constructive solutions, the use of stainless materials and cutting-edge polymers tested according to DIN EN ISO 846 and capable of inhibiting bacterial proliferation have allowed the realization of two series of units complying with the parameters set by the guidelines VDI 6022, increasingly recognized at European level as a reference point for the design of innovative public places where an excellent level of hygiene and comfort must be ensured for the total well-being of people.
AIR-ECM-Hy
Hygienic centrifugal fan coil unit
according to VDI 6022

LIGHT-ECM-Hy
Hygienic cassette fan coil unit
according to VDI 6022

• 10 sizes of capacities
• 2 configurations of installation
• 2 pipes and 4 pipes system
• Front panel 600x600mm in brushed stainless steel (optional)
• With cabinet for vertical installation
• With cabinet for horizontal installation
• Vertical concealed type
• Horizontal concealed type
• Centrifugal ECM or asynchronous motor (optional)
• Wide range of controls
• Performance EUROVENT certified
• Hygienic certification VDI 6022

• 5 sizes of capacities, 2 pipes system
• 6 sizes of capacities, 4 pipes system
• Front panel 600x600mm in satin finished steel
• With or without motherboard installed on-board
• Centrifugal fan with ECM motor
• Wide range of controls
• Air filter with efficiencies class G1, G4 or F7 or electronic filter
• Performance EUROVENT certified
• Hygienic certification VDI 6022
• Differential pressure switches (optional)